Listing My Way To Completion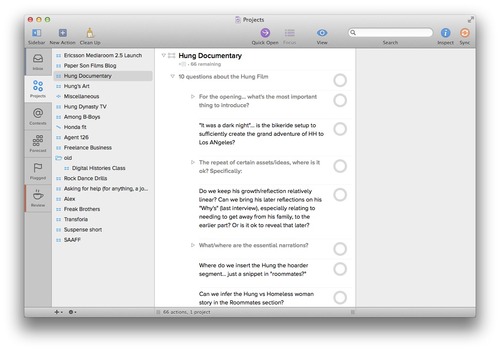 I've been working on getting a solid rough cut for my feature film about this mercurial performer/personality known as "Hella Hung". I can actually list off the reasons this film has been tough for me to finish, but that low on my list of priorities. I've spent so much time on "why" it isn't done or has been slow, but now I am just at the point where I need to finish! Ok well, I'm overwhelmed by things like:
too much footage shot
too much archival footage
exhausted/lazy reviewing
exhausted/lazy records/logs
paid projects
not enough help/feedback
too much feedback
technology
not enough money
These things have affected the project at one time or another and it does me little to dwell on these projects when I have enough time and don't require too much extra money to accomplish my goal.
There's a lot of story issues that I'm still trying to address, but in order for them not to be too overwhelming, I decided to make a list of just 10 questions about my film that I have, and to tackle those. And if I hit a wall or I still don't have a proper rough cut when I'm done with that list, I start a list of 10 more things. I feel like by breaking them down into tasks, it gives me a little more instant gratification and I can track my progress.
I've already done a lot of writing and outlines, making bullet points and the like, so no I am at the point with this film where I really need to get more work done.
Here's what I use for this set of tasks:
I like to use the program Omnifocus, even though it's not free, it's pretty good at what it does and you can make lists galore here. Since I already use all iOS devices, I suppose I could use something like the "reminders" app that apple has built into iOS and the most recent versions of OSX, but I needed a little more power and detail. I only really use those for groceries. I like to place lists for all my projects into this program, and make lists of tasks and subtasks… really as detailed and undetailed as you want.
For the really organized, you can plan out your tasks over your calendar in the "Forecast" section, you can also assign contexts for tasks if you are often on the run and in different places. You can organize contexts of "office" "errands" or whatever other categories you'd like.
The key in this long marathon of a project is to allow yourself to enjoy the steps and milestones. I often work alone for much of my projects, and although I bring in friends and colleagues for feedback or even subcontracting, As the boss I need to find ways to keep myself accountable to my subjects, my audience, and myself.